Key Clamps
Alvin Key Clamps are manufactured to the highest quality using the finest materials and the most modern plant and machinery. Fisher Foundries have been manufacturing Alvin clamps for over twenty five years.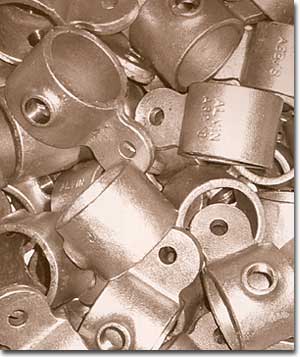 Applications
Alvin Key Clamps are suitable for pedestrian guardrails, security gates, car park and trolley barriers, storage and racking, and climbing frames.
Alvin Key Clamps offer a wide variety of rigid, modular structures using standard fittings from the range. They are easily and quickly assembled without the need of special skills or tools.
Alvin Key Clamps eliminate the need for welding, bending, or threading of tube.

Composition
Alvin Key Clamps are malleable iron castings manufactured in excess of BS 6681 [ISO 5922] and BS 2789 [ISO 1083], all Alvin Clamps are supplied complete with Deltatone coated case hardened set screws and are galvanised to BS 729 [ISO 1461].
Design Considerations
When tightened to 4.1kg [29ft/lb] a slip load of 900kg can be obtained on each screw,
Dimensions
For precise dimensions please check the Fisher website at www.fisheralvin.com.